Mental Health Day 2021
MENTAL HEALTH DAY 2021
MENTAL HEALTH DAY PROGRAMS CONDUCTED BY ERNAKULAM PSYCHIATRIC SOCIETY (EPS), KERALA STATE
CURRENT OFFICE BEARERS:
PRESIDENT: DR P JOSEPH VARGHESE (Prof and head of the dept of Psychiatry, MOSC Medical College, Kolencherry)
SECRETARY: DR. ELSIE OOMMEN (Consultant Psychiatrist Medical Trust Hospital Kochi)
TREASURER: DR SALINI NAIR (Consultant Psychiatrist MAJ Hospital, Kochi)
HIGHLIGHTS OF MHDP 2021
This year Ernakulam Psychiatric Society organised awareness programs through zoom meeting to reach all the 14 districts of Kerala.
We laid the landmark of conducting the programmes for the first time in the country, for the differently abled, destitutes and women network across the State.
Following were the programmes done:
1. LGBTQ COMMUNITY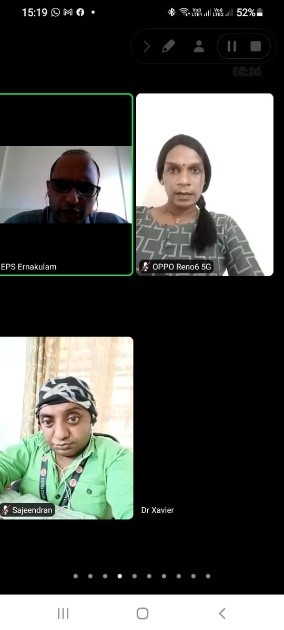 Date: 6th October 2021
Time: 2 p.m. onwards
CHAIRPERSON: Dr C J JOHN (Sr. Consultant Psychiatrist, Medical Trust Hospital Kochi)
SPEAKER: DR ASHOK ANTONY (Associate Prof., Dept of Psychiatry SN Medical College, Chalakka)
37 people from LGBTQ community participated in the program and shared their concerns about inequalities prevailing in Kerala. Special address was given to the recent suicides of transgenders in the State and the risks for the same in the LGBTIQ population was discussed.
2. DIFFERENTLY ABLED COMMUNITY
Date: October 7th, 2021
Time: 7:00 p.m. Onwards
MODERATOR: MR FRANCIS PYNADATH (Engineer., All India Radio, Secretary of Differently abled Employees Federation of India)
SPEAKER: DR. CHANDRASEKHARAN NAIR (Sr. Consultant Psychiatrist, Nair's Hospital Kochi)
Around 125 people including their family members attended the program. Representatives from Differently abled Employees Federation of India, National Federation of Blind, Kerala Federation of Blind, Balanagar old students Association, Thanal Maram, Wheelchair users Association, differently abled Railway Employees Association, and Sakshama, an association for Differently Abled Kerala attended the program.
Active discussion was there on the possibilities of bringing them to the mainstream Society in all facets with the help of Psychiatric society. Special discussion was there regarding the issues they faced in the community. This was the first event in India organized by a Psychiatric society for differently-abled people. Ernakulam Psychiatric Society and Associations of differently abled people achieved a milestone by conducting this programme.
3. 1200 BEAUTIFUL SOULS OF GANDHIBHAVAN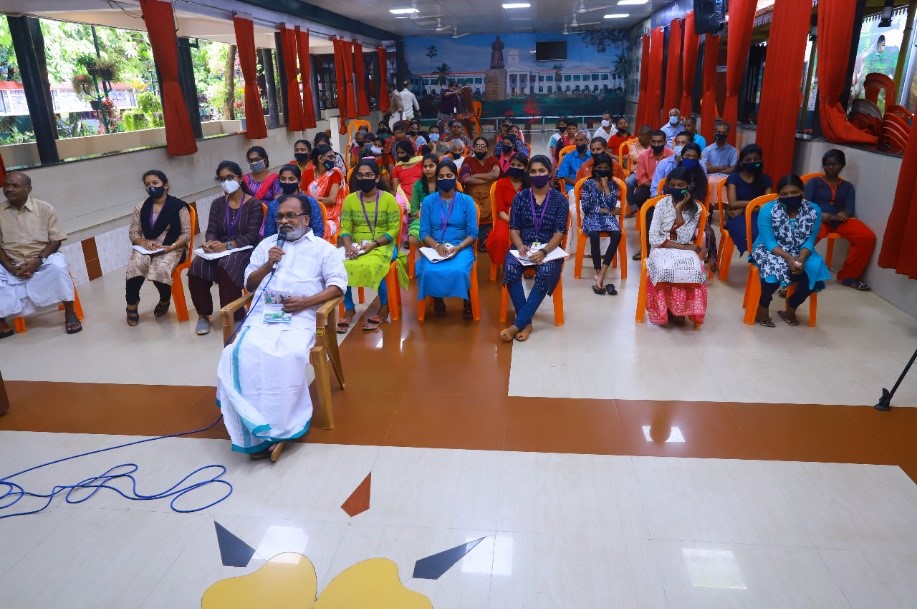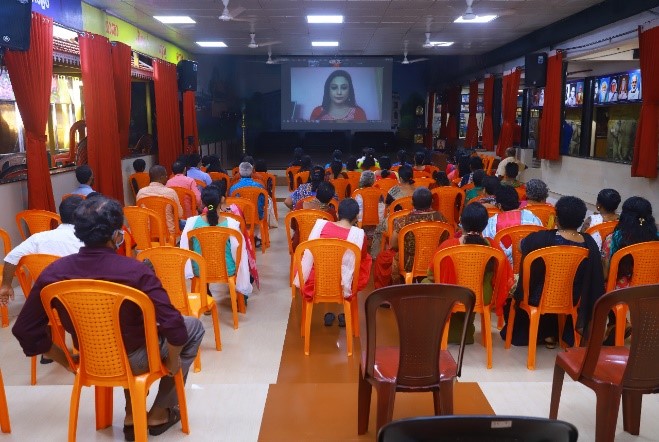 Destitutes of Gandhi Bhavan International trust, Punalur. Asia's largest secular rehabilitation centre.

MODERATOR: DR PUNALUR SOMARAJAN (Secretary of Gandhi Bhavan, member of Orphanage control Board, Social Justice Dept., Kerala State)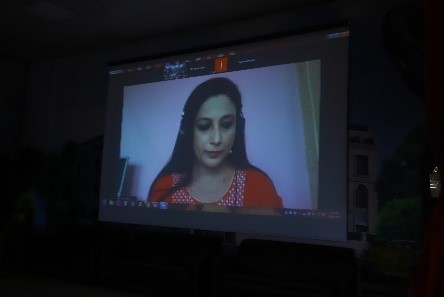 SPEAKER:
DR. ELSIE OOMMEN (Consultant Psychiatrist, Medical Trust hospital, Kochi)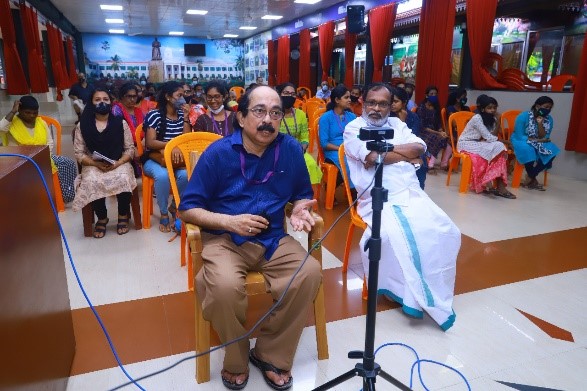 1200 members participated for the program which included kids to senior citizens, physically, mentally, visually challenged and Psychiatric patients.

100 of t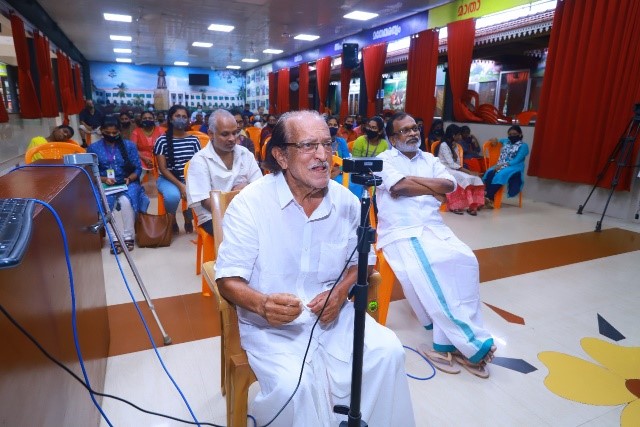 hem attended the program in the conference hall, and for the rest of them, audio-visual and speaker systems were provided in their rooms, halls and other premises. Very active interactions were there from their part regarding inequalities faced by old age people, mentally ill and orphans. The recorded version of the program would be played in forth coming days in all 17 branches of Gandhi Bhavan. This was the first time in the history such an effective programme related to mental health day organised for destitutes by a Psychiatric society in Kerala and Dr Punalur Somarajan, member of Orphanage control board, Social Justice dept of Kerala State informed us that recording of the event would be submitted to the health minister of Kerala, with a proposal of conducting similar programmes across the state of Kerala as a government initiative for the upliftment of the destitutes.
4. KUDUMBASHREE- WOMEN COMMUNITY NETWORK, KERALA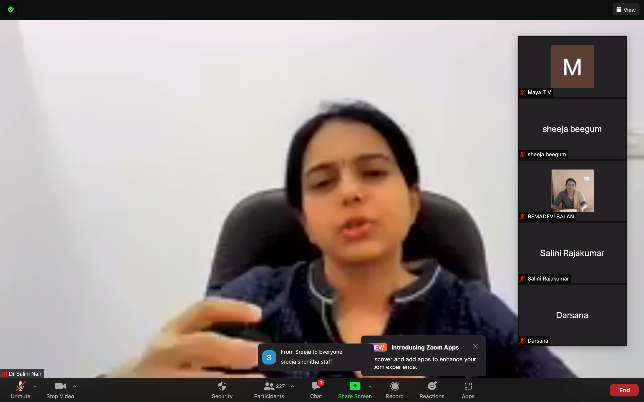 MODERATOR:
SMT. ANITHA KUMARI, Counsellor, Gender help desk. Trivandrum.
SPEAKER: DR. SALINI NAIR (MAJ Hospital, Kochi)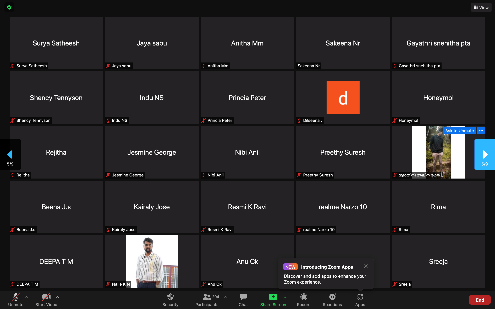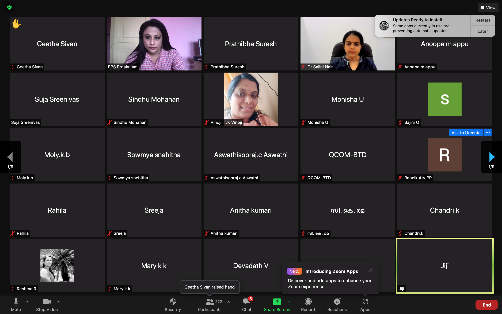 Nearly 300 members of Kudumbashree, the poverty eradication program run by self-help groups of women promoted by govt of Kerala from all over the State attended and active discussion was there about women's mental health issues, gender discrimination, domestic violence, sexual assaults and so on. This was the first mental health programme done for Kudumbashree network at state level.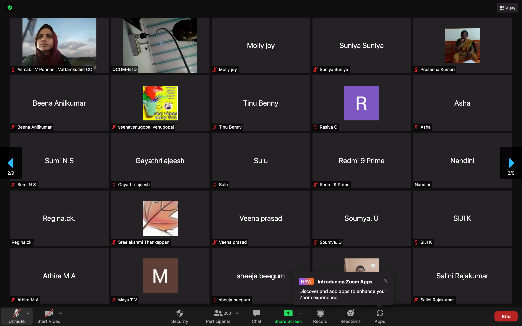 CONCLUSION
EPS has been organising satellite programmes in Ernakulam district and this year amidst the limitations of covid Pandemic we explored the possibility of online platform reaching all 14 district of Kerala and showed full justice to the theme.